Shareholders
SUEZ winner of the 2019 Best Shareholder Relations Awards
At the 2019 Best Shareholder Relations Awards organized by Le REVENU for its 6th edition, SUEZ has been rewarded once again and has won the Silver Award for best Shareholder Relations in the SBF 120 Companies category. It follows upon many Awards gained also by the Group in the last 5 years.
These "Le Revenu" Awards recognize the most praiseworthy companies in the SBF 120 Index based on a major annual survey conducted by LE REVENU (best services to individual shareholders and best digital tools to inform them).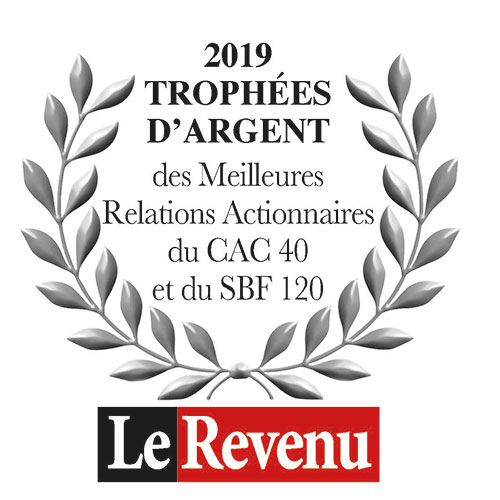 With this distinction, this major monthly investment magazine recognizes again the quality of SUEZ's relations with its individual shareholders. Since its IPO on the Paris stock exchange in 2008, SUEZ has always shown itself particularly attentive to maintaining strong dialogue with its individual shareholders. The Group has set up a comprehensive communication system, mainly through regular information meetings with Senior Management, a very active Shareholders' Club that puts on many events in France, Belgium and Luxembourg for its 13,000 members, the development of digital communication that adheres to best practices and regular consultations on shareholders' expectations (consultative panels, web-based surveys).
SUEZ's shareholder relations also work to promote individual share ownership and its renewal, notably through a partnership with "L'Observatoire des Actionnaires d'Avenir", which brings together 10 issuers and major players from the Place de Paris.
Keywords
For more information