Water
SUEZ and the national water company of Azerbaijan strengthen their cooperation
On the occasion of the State visit and in the presence of Presidents Macron and Aliyev, Jean-Louis Chaussade, CEO of SUEZ, has signed a letter of intention with Gorkhmaz Huseynov, CEO of AZERSU, the public operator in charge of water and sanitation services in Azerbaijan. It will deal with the modernisation and management of Sumqayit water. They also amended the contract of training and know-how transfer in all water-cycle trades. The Group will deploy smart solutions, in order to improve operational and environmental performance.
Today, SUEZ and AZERSU amended the contract of training and know-how transfer in order to continue their cooperation until 2020. Teams will receive operational training at their workplaces. High-potential managers will be trained in Azerbaijan and France.
Moreover, SUEZ will participate in the deployment of several digital and innovative solutions, including a real-time monitoring system, smart sensors and meters, as well as electrochlorination1.
The partners also signed a letter of intention to strengthen their cooperation with the upgrading of drinking water and sanitation infrastructure in Sumqayit, the country's third largest city. Thanks to its robust operational know-how and the implementation of cutting-edge solutions, the Group will develop these services to achieve a continuous drinking water supply, the reduction of leaks and the development of sanitation. SUEZ would also be in charge of the management in a delegation of water services.
Since 2012, SUEZ has supported the national company in the improvement of water and sanitation infrastructure and services. As part of this, the Group conducted an assessment study of the capital's water services. Since 2014, it has been providing know-how transfer, technical assistance and training for 13,000 Azerbaijan employees in all trades of the water cycle.
Thus, the Group is pursuing its international development strategy, thanks to innovative services, spreading its know-how and expertise in favour of essential services.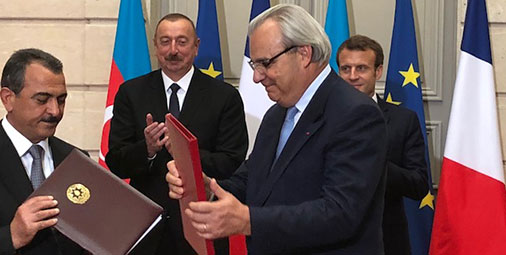 1 Electrolysis-based process for water disinfection