Three digital solutions that help to combat air pollution
According to the WHO, 91% of the world's population breathes in polluted air. Numerous solutions are calling on digital technology to better understand and combat this pollution, which represents a major environmental and health issue. A close-up of three of them.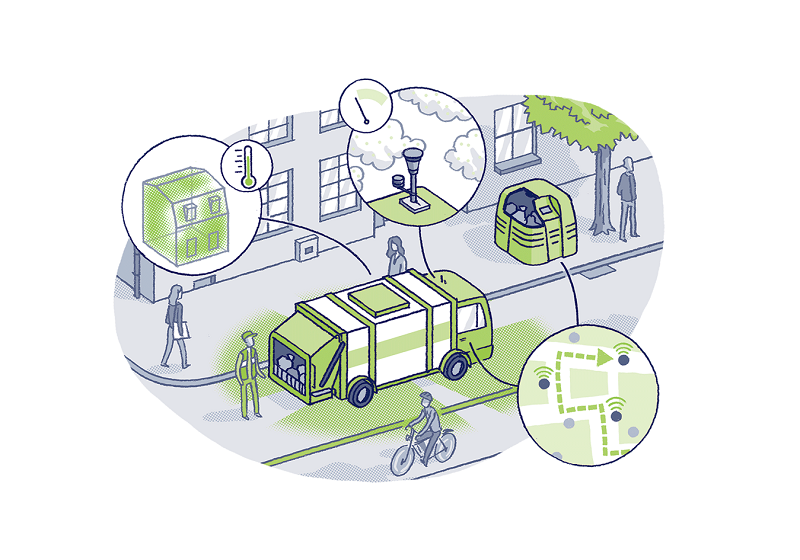 Flow: the pocket sensor that measures exposure to pollution in real time
Designed by the French start-up Plume Labs, Flow is a connected, pocket-sized sensor that individuals can use to measure the level of air pollution they are exposed to, no matter where they are.
With its stylish design, Flow is made up of a box and a leather strap that can be attached to a rucksack or a bike. This precise sensor provides information on the concentration levels of nitrogen dioxide, fine particles, volatile organic compounds, humidity and the temperature of the ambient air. A mobile application displays the concentration levels of the different pollutants to which the user has been exposed in the course of the day.

An Open Data map showing air pollution in India
BreeZo is a progressive web application[1] developed by the Indian start-up Blue Sky Analytics that displays data on the air quality in India's biggest cities.
The data from sensors, located both on land and on satellites, is analysed and formatted by a tool developed by the start-up that uses artificial intelligence. By offering real-time access to this data to the greatest number, BreeZo aims to raise the general public's awareness of the issues surrounding air quality. But it is also a decision-support tool that can help people to reduce their exposure during peaks of pollution. BreeZo is the first of a series of three monitoring solutions that will help to gain a better understanding of environmental issues in India.

Smart trucks for waste collection

One of the goals of the Smart Truck innovation developed by SUEZ consists of using an existing urban service to help to improve knowledge of air quality. This waste collection smart truck is equipped with sensors that capture urban data and measure the air quality on its rounds. In this way, the waste collection service becomes an additional decision-support tool for local authorities and is helping to build smarter cities.

[1] A web application that can be viewed directly on conventional web pages, without the drawbacks of mobile applications (appstores, limits of the device's memory, etc.)
Smart Truck - (c) Thomas Vieille