Sustainable development
Promoting gender diversity, the new road map
The International Women's day is an occasion to present the latest initiatives of the Group concerning gender diversity. Nicole HOUEL, Deputy Senior VP Group Human Resources, explains the main objectives and actions of our road-map, targeting a raise of women in operational and key jobs in the five coming years.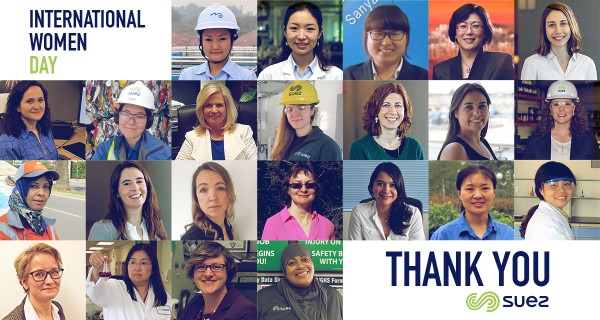 SUEZ acts in favour of diversity in the workplace.
The commitment and expertise of the individuals who work in our different entities are essential to our role as a manager of natural resources.
As a major international group, we have a social responsibility and a legitimacy of prime importance. We wish to set an example to our numerous partners by promoting gender equality and diversity.
In order to advance this matter, we have implemented specific policies in the countries in which we operate.
Nicole HOUEL talks about gender diversity at SUEZ

Deputy Senior VP Group Human Resources, Nicole HOUEL replied to four questions regarding the gender diversity policy within the Group.
Now that the 2013-2016 programme for diversity has come to an end, what is the position of women in today's SUEZ?
The "Diversity" programme has produced the desired results, and we have advanced in terms of various different criteria, including the place of women within the Group's management structure.
This programme has helped to change perceptions in the company through the various initiatives to raise levels of social awareness.
Today we see a steadily increasing proportion of women in our various business lines. Worldwide, over 20% of our employees are women, a proportion that rises to 28.1% in management grades and reaches 17% for the members of the Executive Committee.
These good results made our Group a serious contender in the 2016 Rankings for the Feminisation of the SBF 120 Top Companies, in which we finished in 14th position.
We are determined to do even better in the future. Our ambition is to surpass this position in the coming years by establishing targets at every level within the company and launching an authentic movement for change.
How have these new targets been defined?
By launching the SUEZ Women's Network on 8 March 2016, we chose to implement a more dynamic and company-wide programme of initiatives.
This decision was put into effect by setting up five working groups, leading to the direct involvement of over fifty members of staff. Their goal was to improve the position of women within the Group.
For 2016, these groups were organised around a series of key themes: access to vital positions for career advancement, parenthood, enriching the talent pool, the glass ceiling, and increasing the number of women in specialist roles.
On the basis of their reflections, we have defined ambitious targets, identified areas on which to take action, and drawn up new indices. The latter will enable us to analyse the results of our initiatives.
What are the Group's targets for the coming years?

For the period 2017-2021, we have drawn up a full road-map dedicated to the subject of women's place in SUEZ.
Furthermore, we have opted for a specific policy oriented towards the feminisation of key positions. This now forms an integral part of our "Diversity" programme.
Our aim is to increase the number of women among non-managers, among the Group's Top Executives, senior managers, and directors (with particular emphasis on those in operational positions), and among the specialist roles.
We specifically propose to increase by 10% the proportion of women in our overall workforce, taking the total to 22%. We will also continue our programme for managers. The target is to increase the number of female managers to 33% and Top Executives to 20%. We also aim to have women in 20% of Executive Committee positions.
Over and above the target figures, we wish to change mentality and to establish an authentic culture of gender diversity. Our road-map is therefore based on initiatives concerning our Human Resources (HR) procedures and on the perceptions of the various stakeholders.

What actions will be put in place to attain these targets?

We have made commitments with regard to quotas in terms of staff flow, i.e., recruitment, mobility and promotion. For example, we will guarantee a minimum of 50% of women among external applicants, for senior management, and Top Executive positions.
We will put in place specific action plans with regard to the glass ceiling. These will lead to an increased number of women in business lines with a marked imbalance currently, such as technical and operational specialisations.
Finally, we will also take action in the field of perceptions. We will take measures to reinforce the visibility of women's careers and to increase the representation of women. Particular importance will be given to this issue within the internal and external groups in which we participate.
The result of these actions and the state of progress of the road-map will be reviewed twice per year and presented to the Executive Committee.
Actions to develop mixed at work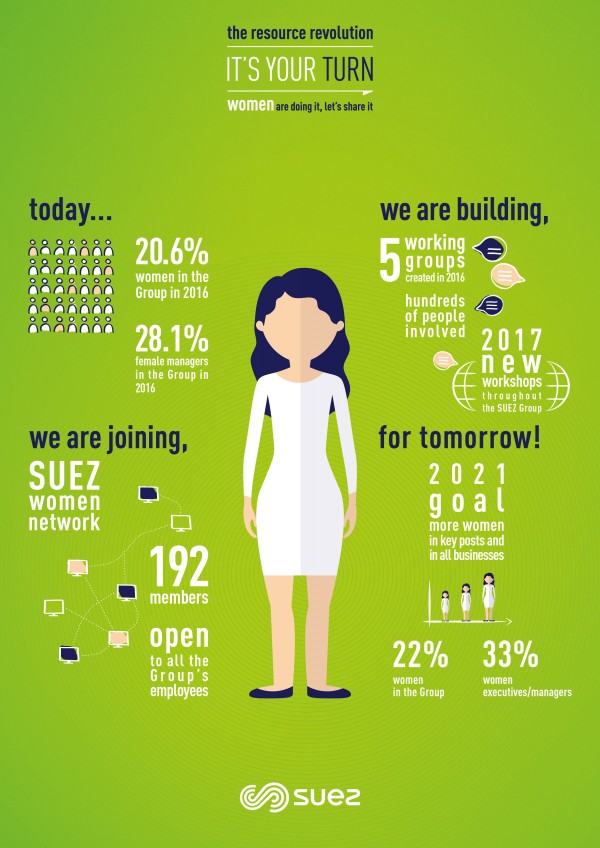 Keywords