Students and young graduates
Looking for an internship, a first job or an excellence program like the SUEZ Graduate Program? Every year, SUEZ welcomes almost 2,500 students and young graduates in all fields related to the protection of resources. Find out how you can come on-board and take part in major programmes in France and elsewhere.
Jobs at SUEZ
More than 90,000 employees worldwide engaged in the resource revolution
* data without former GE Water & Process Technologies
SUEZ Graduate Program
Join an excellence programme for a unique and exciting experience
Do you want to join an excellence program that sets high ambitions? Find out more about SUEZ Graduate program for young talents interested in the sustainable management of resources.
A true program of excellence that aims to attract and train young talents in management or expert functions. It provides an opportunity to join the SUEZ Group and to progress and develop.
Over a period of two years, you will complete four missions in different entities in France and abroad, during which you will discover new and different cultures, companies and activities, on permanent contract with an attractive salary.
SUEZ Graduate Program includes four missions:
A graduation internship lasting at least six months in one of the Business Units in France, during which the student gains their first experience in the field.
A mission in one of our subsidiaries in France to develop your professional and managerial skills. This mission offers the opportunity to acquire technical and managerial know-how and sound business knowledge on a mature market.
An immersion program in startup, lasting 3 months, to play a role of explorer & ambassador SUEZ and acculturate to trades and new digital postures.
An international experience by joining one of our international subsidiaries in order to offer our know-how to our customers in Australia, China, Hong Kong, the United States, the United Kingdom, Morocco, Spain, Qatar, Dubai, Germany, Holland, etc.
The permanent contract will be proposed at the end of the first mission, the intership.
A mentor is designated to oversee your integration and development in the group. A local HR officer will also support you throughout your mission. You will be able to build your professional network in regular business unit meetings. A learning support will be implemented to develop your skills.
We make offers in two areas:
Engineering / Project management
Business Development / Sales


The recruitment session is held once a year, between October and December.
Several stages in the recruitment process: a collective assessment, a personality and motivation assessment test, two individual interviews and then a meeting with a member of our HR Management Committee.
The right profile for SUEZ Graduate program:
You are following a five-year post-baccalaureate course in the technical and commercial functions (business school, technical school or university) and you are looking for a graduation internship.
You are interested in activities related to the environment and sustainable development.
You speak French and English, and, ideally, one other language.
You have thought out your career path in an activity related to the environment.
You are excited by an international experience and you are prepared to be mobile.
You are curious, adaptable and have a taste for contacts.
Internships and apprenticeships
Gain your first meaningful experience in sustainable resource management
Do you want to discover new roles in the smart and sustainable management of resources as part of your training? As a worldwide player in water and waste, SUEZ offers numerous internships and work experience contracts all over the world.
Supporting interns and young people on work experience programmes is a priority for SUEZ
We help to improve the employability of young people in the environment sector. In this context, supporting interns and apprentices is a priority for SUEZ. In order to facilitate their integration and to help them to discover the diversity of jobs, the Group meets about a hundred of them every year for a day. It is for them the opportunity to discover our activities by visiting a site (recycling center, desalination plant, drinking water station, etc.), to attend conferences and to meet operational representatives.
* data without former GE Water & Process Technologies
VIE
Working on international projects
Do you want to start your career with professional experience abroad? SUEZ offers around 40 volunteer for international experience (VIE) missions each year in the resources management.
These missions, lasting between six and 24 months, are on offer in numerous countries: the UK, Germany, Holland, Belgium, the United States, Australia, Morocco, Canada, Thailand, China, Hong Kong, Cambodia, Qatar, Oman, Dubai, Mexico, Brazil, etc.
The VIE missions at SUEZ include technical, engineering and support positions (finance, business development, sustainable development, sales, HR, etc.).
Relations with educational establishments
Help to promote resource-related activities in higher education establishments
SUEZ is an international company that contributes to the development and the preparation of professional careers for students. This activity focusses on two priorities: academic support and an ambition to promote professions in the realm of the sustainable development of resources and their opportunities.
To this end, SUEZ takes part in topical environmental and social debates in academic circles and on the international stage. The Group also develops partnerships with establishments of higher education.
Some examples of partnerships in France and abroad:
SUEZ has built partnerships with several higher education establishments in the human and social sciences (economics, political science, law, management, sociology, geography, urban development, etc.) as part of its relations with universities.
These partnerships in France and abroad will:
strengthen knowledge in the socio-economic and socio-political fields
contribute to topical debates in academic circles and on the international stage
Universities and company chairs in the human sciences fields are interested in activities related to the environment and in the activities of international service providers in the water and sanitation sectors.
The subjects that are most frequently addressed by collaboration projects between SUEZ and universities include:
Public-private partnerships
Governance rules and the transparency or the responsibility of public and private operators in the water and sanitation sector
Water in developing countries (access, prices and pricing structures)
Sustainable development
Project funding
Events
Come and meet us
SUEZ comes to meet students in their schools and universities all year round. These meetings are important for the Group because they are an opportunity to promote resource-related activities and the opportunities in the company.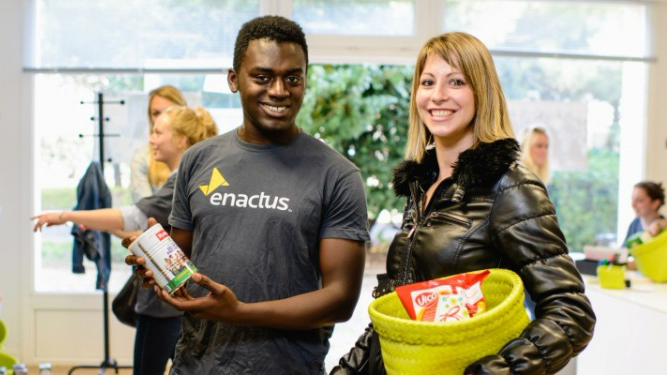 Enactus
Enactus
is a community of students and leading academic and economic figures who are committed to calling on entrepreneurs to improve standards of living and to build a better and more sustainable world. SUEZ has been a partner of Enactus since 2011. By offering its support and business know-how, the Group helps to guide and improve the students' projects, so that they have greater social and environmental impacts.
Régates en Seine
Since 2011, SUEZ has partnered the
Régates en Seine
(Seine Regatta), organised by the Ile-de-France Chamber of Commerce and Industry and the rowing clubs from HEC and ESCP Europe. The Régates de Seine are a genuine sporting and human challenge that offers an unforgettable spectacle year after year. This competition pitches several teams from French schools, such as the Polytechnique, Centrale, HEC, ESSEC and ESCP Europe, and European universities (Cambridge, FH Karlsruhe, etc.) against one another. The event takes place in June at the foot of the Eiffel Tower, between the Bir-Hakeim and Iéna bridkges.