Climate
One of the keys to carbon neutrality can be found in our fields
Agriculture lies at the heart of the climate challenge. The world's agricultural soils store a proportion of the planet's carbon dioxide… and could store a lot more in the future if agronomic techniques like agroforestry and agroecology were rolled out on a massive scale.
The role trees play in capturing the planet's carbon dioxide is universally acknowledged. Less known is the role that other plants play by retaining carbon in soil: Every year, 30% of CO2 is recovered by plants, which then decompose and return to the soil as organic matter, helping to enrich it in carbon. It is estimated that the world's soils contain two to three times more carbon than the atmosphere1.

That is why agroecology, agroforestry and landscape management must play a part in the fight against climate change. For the international initiative "4 pour 1000", launched by the French government at the COP21 climate conference, "maintaining organic carbon-rich soils, restoring and improving degraded agricultural lands and, in general terms, increasing the soil carbon, play an important role in addressing the three-fold challenge of food security, adaptation of food and forest systems and people to climate change, and the mitigation of anthropogenic emissions."
Several agricultural practices can help increase soil's capacity to store carbon and should be promoted on an international scale: enriching soil with organic matter like manure or compost, preventing carbon loss by covering soils (with straw, for example), or planting trees and hedgerows that can store carbon easily. 570 million farms worldwide and over 3 billion people living in rural areas could get involved
2
.
France's low-carbon label
aims to speed up regions' low-carbon transition by certifying and funding projects to cut greenhouse gas emissions in all business sectors, including agriculture. So far, 87 projects have been certified.
"All farmers should sign up to the low-carbon label initiative, by increasing soil organic matter using agricultural techniques that they fully understand and that, as we see regularly, they wish to promote. Farmers involved in livestock farming or crop-growing can adopt agroforestry techniques by planting hedgerows to enhance biodiversity, or by recovering livestock manure on permanent pastures or through anaerobic digestion, reducing their use of chemical fertilisers. Farms must be given financial support for their low-carbon certified projects."
said the former French minister of agriculture, agrifood and forestry, Stéphane Travert, at a round table organised by the Think Tank Food & Planet on 29 April.
Environmental services provided by farmers as a source of revenue for their farms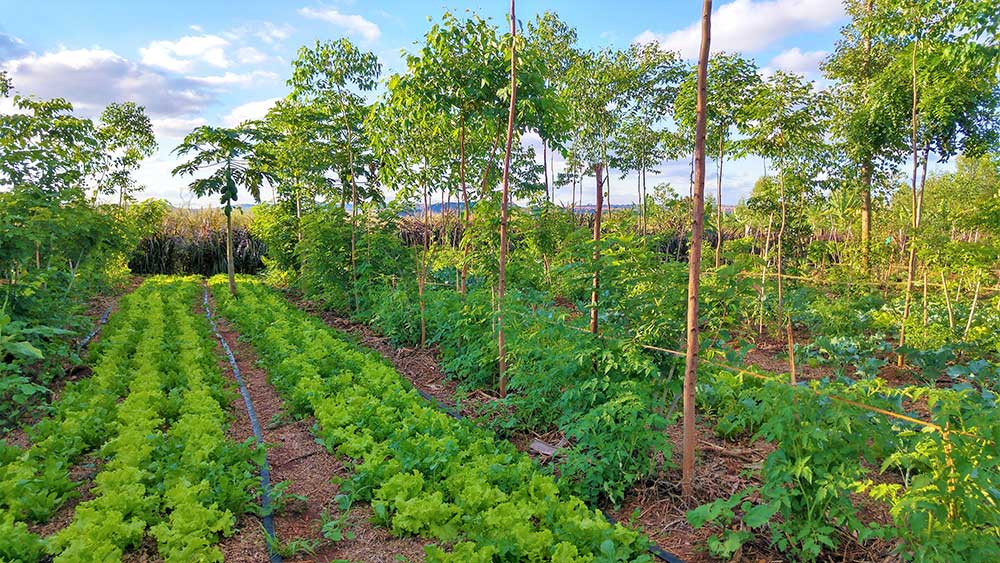 Farmers have many roles to play including feeding the planet, protecting biodiversity and nature as a whole, and helping to fight climate change by increasing soil's capacity to store carbon. Planting trees and hedgerows on agricultural land has a positive impact on the quantity of CO2 stored, but it is also a way to store water, enhance the diversity of plant and animal species, and protect soils and landscapes. In so doing, farmers provide so-called "environmental" services for which they can be paid. In France, this is called "PSE", or payment for environmental services.
For Pierre Achard, Director of Smart Agriculture France at SUEZ, "Agriculture represents 25% of the world's greenhouse gas emissions and is one of the first victims of climate change but, above all, it is the key player in the protection of resources and all living things." He believes that digital solutions, in conjunction with agricultural techniques, can help achieve the environmental and agrifood (feeding an extra two billion people) transition in an economic continuum.
SUEZ has in fact announced a partnership with two French companies - Agdatahub and Orange Business Services - to develop innovative solutions focusing on smart technologies and objects for capturing and measuring carbon, water quality, and greenhouse gas emissions from livestock, for example. These solutions will enable farmers to benefit from measures such as PSE in France.
1 and 2 : www.4p1000.org
Keywords