Air
Dunkirk innovates for better air quality
Ten years to improve the quality of the air that 200,000 people breathe in the 17 towns that make up the Dunkirk region. This is the goal set by Dunkirk urban community, which has placed the subject at the heart of its transformation project. Planned actions include implementation of more effective, almost real-time, and highly detailed air quality monitoring, better information for citizens, and pollutant capture at factory chimney outlets.
Dunkirk is an industrial port city whose influence extends across Europe. Of Dunkirk you could say it is the third largest port in France, the largest European energy platform, one of France's largest industrial zones (with its metal, steel and chemical industries), and the region with the highest CO
2
emissions in France, where inhabitants are exposed to some thirty pollution peaks every year.
But Dunkirk is also a region that is keen to undergo transformation by innovating to reconcile economy and ecology, employment and health, and by 2027, bring their pollution peaks down from 17 a year to zero. In its
"Dunkerque, l'énergie créative"
(Dunkirk: creative energy) project, which came third in the French government's
Territoires d'innovation
(Innovative regions) request for proposal, the urban community set itself four drivers for transformation, including air quality and the energy transition with, as its watchword, better quality of life for its inhabitants.
Air quality is at the crossroads of a number of key, interacting issues: urban mobility, freight transport via sea or road, land planning (for example, deciding where to locate new industries to avoid resulting pollution being driven towards residential areas by the wind), industrial and agricultural production methods, the energy transition, and development of the circular economy, which can help reduce air pollution by creating virtuous production loops.
The innovation behind the "Dunkirk: creative energy" project lies
in its method
: bringing together, in a collaborative manner and with collective governance, all stakeholders, from local authorities to manufacturers – including SUEZ – via associations, health organisations, universities and citizens.
In detail
: the Hauts-de-Flandre federation of municipalities has joined the project and a total of 253,000 inhabitants are set to benefit from the improvements it will bring. Back in 2018, the Dunkirk urban community became the largest European urban area to introduce free public transport for its 17 towns and villages.
Recording air quality in a precise and neutral way, and providing better information for the general public
. This will be the role of the local health observatory, which will use scientific studies to assess the impact of air quality on the health of inhabitants and local fauna and flora by correlating, for example, the type of pollutants present in the air with certain pathologies. The aim is to assess the harm that pollutants cause to public health and then improve treatment measures. The observatory will also work on developing new indicators, such as "bioindicators" like bees or lichens,
as explained by Sandrine Babonneau, urban planning and health specialist at AGUR and coordinator at the local health observatory
.
"Inhabitants will have access to information on a street number level and almost in real time"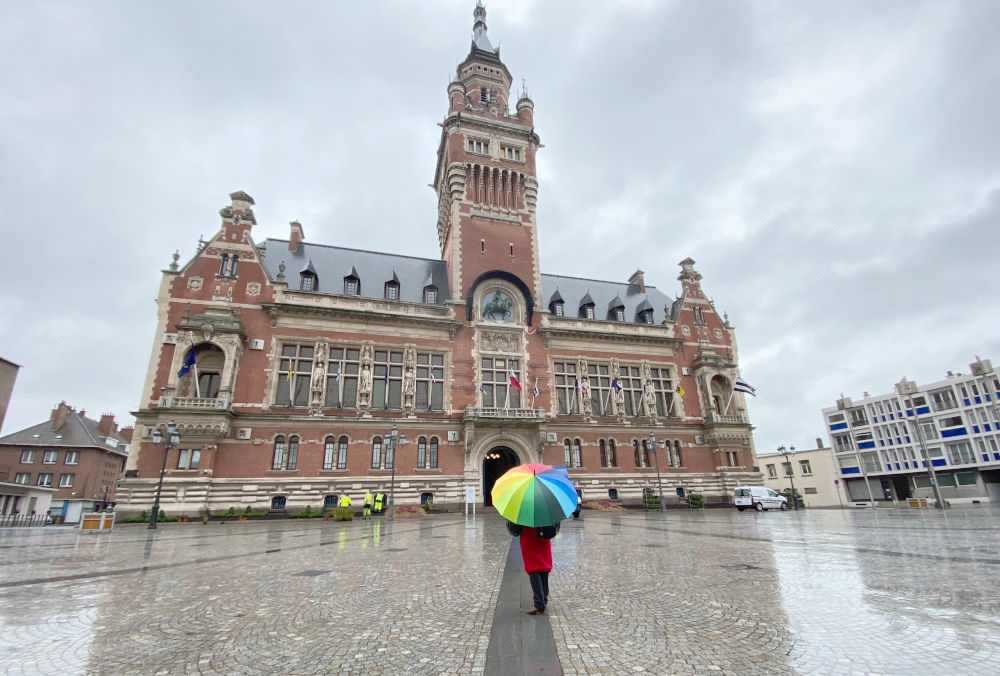 SUEZ has been involved with the project since it first began and manages the working group on air quality. SUEZ Group will introduce an air quality monitoring system which will be used as a decision-making tool for local public authorities and which will provide inhabitants with more information on the air they breathe. Nicolas Prego, Smart & Sustainable Cities Technical Director at SUEZ, explains: "
Today, there are many uncertainties. Most pollutants are often invisible to local inhabitants.
We lack precise figures regarding the quantity of pollutants people breathe at a given spot in the city at a given time. The degree of precision is about one kilometre and two maps are provided each day. Tomorrow, inhabitants will have access to information on a street number level and almost in real time. Meanwhile, public authorities will be able to consult a map enabling them to manage the issue and make decisions, just like an aircraft pilot who needs a flight deck to decide what actions to take."
According to one shopkeeper in the city centre, near Place Jean Bart, "you can't smell the air pollution in Dunkirk; a bit like in Paris in that, when you live there, you smell the exhaust fumes but you are used to it". Another believes the information will be precious, "I would like to be better informed about air quality because my son is asthmatic. Now I look at the signs in town and when I see that air quality is poor I try not to go out if possible".
Bernard Weisbecker, President of Flanders Dunkirk region's Urban Planning Agency believes that, "it is not only the introduction of new procedures that matters but also the confidence people have in the air quality data they are given. Transparency is very important. Which is why we are currently looking for new ways of communicating with people on a more precise level."
Treating air as it leaves factory chimneys
SUEZ will provide concrete solutions to create "pure air bubbles", particularly in sensitive public spaces such as care homes and schools, just like the project introduced in a
primary school playground in Poissy (Yvelines, France)
. The Group will also work on designing air treatment technology
to clean factory smoke, capture certain components, like volatile organic components, then separate and treat them
. These innovations will be tested and validated in Dunkirk before being rolled out to other regions.
All new projects adopted in Dunkirk will be assessed
for their positive impact on air quality
, either in terms of industrial ecology - 80% of the region's manufacturing companies will be committed to a circular economy project by 2030 – or regarding
urban planning
, as Bernard Weisbecker explains.
Franck Hélias, General Delegate of MEDEF Côte d'Opale, believes that air quality could "become a driver for economic growth if we develop expertise that will help our cities and that can be exported abroad. This is a subject that affects every country. If we can inspire other regions, this will benefit every stakeholder."
For more information
Discover on other websites