Group
SUEZ becomes official partner of the Tour de France Femmes avec Zwift
Already a sponsor of the women's cycling team FDJ-SUEZ since 2022, SUEZ furthers its support for women's cycling and becomes an official partner of the Tour de France Femmes avec Zwift. Through this agreement, SUEZ will accompany the Tour de France Femmes avec Zwift in reducing its environmental footprint. The Group will contribute to improving the distribution of drinking water and optimising waste disposal and management.
For its second edition, the Tour de France Femmes avec Zwift will eradicate single-use plastic packaging containers in all its areas that welcome the public and guests, resulting in an immediate positive impact on the environment through a substantial reduction in plastic waste during the Tour.
To distribute water in these zones, the Tour de France Femmes avec Zwift and SUEZ will provide water fountains supplying tap water, along with eco-designed drinking bottles and reusable cups.
In addition to the distribution of drinking water, SUEZ will provide the public with all information available on access points and water quality through the application "Mon Eau" consultable everywhere in France.
The partnership reflects SUEZ's strong roots in local communities and underlines its know-how in the fields of water and waste, in aid of the decarbonation of a leading sporting event.
It comes in addition to SUEZ's sponsorship, effective since 2022, of the FDJ-SUEZ team, one of the foremost teams in global elite cycling. It is another example of the support provided by SUEZ to women's sport, of which the Group is one of the leading sponsors in France: 200 top-level sportswomen currently benefit from SUEZ's backing.
This water and waste programme reinforces the implementation of the sustainable development strategy designed by the Tour de France Femmes avec Zwift. The event is aiming to become an ever more responsible organisation and is also making commitments to the promotion of cycling mobility with its programme "Riding into the Future.
"I am thrilled to see a major Group such as SUEZ signing up to support us in the second edition of the Tour de France Femmes avec Zwift, which is already the world's largest cycling event for the women's peloton. A year after the partnership struck up with the FDJ-SUEZ women's cycling team, this support will enable us to grow the event even further while controlling its impact on the environment.'" said Marion Rousse, Race Director of the Tour de France Femmes avec Zwift.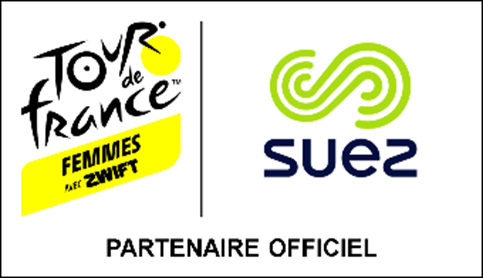 Key figures for Tour de France Femmes avec Zwift (2023):
154 competing racers

22 participating teams

8 stages, covering a total of 956 km

3 regions, 11 French departments visited and 12 start/finish towns and sites

Nearly 20 million TV viewers in France



Discover full details of the CSR commitments of Le Tour de France Femmes avec Zwift on the website letourfemmes.fr.