Our international partnerships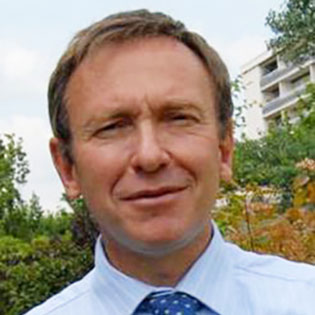 Our innovation policy calls on a network of prestigious external partners from different backgrounds

Pascal Dauthuille-Partnership and project Financing Director at SUEZ
Goal
To strengthen and speed up innovation thanks to our partners
In an ever-changing world, innovation is a necessity and a source of competitiveness.  SUEZ is convinced that its innovation must be based on a network of external partnerships with different players.
These partnerships serve to multiply the Group's Research and Development efforts, while benefiting from cooperation with some of the best research teams in the world.
The Group intends, on the one hand, to facilitate the sharing of results and exchanges between researchers and experts and, on the other, to provide innovative offers and services to meet the future needs of its customers.
Network
A network of prestigious partners
SUEZ calls on a network of prestigious partners from different backgrounds:
public, scientific and technical organisations, such as the University of Bordeaux (France), the University of Barcelona (Spain), the IRSTEA (France), the CNRS (France), Tsinghua University (Beijing, China), the Harbin Institute of Technology (China), the University of Valparaiso (Chile), etc.
or networks of excellence and innovation, like the Axelera centre of excellence (environmental chemistry), Advancity (sustainable cities and mobility) and DREAM (sustainable water resources, renewables and natural ecosystems), the Hydréos cluster (quality of continental water), the Mediterranean Sea Centre (the maritime and coastal economy) and the IAR cluster (Industry and Agri-Resources) in France.
European networks and collaborative platforms : Water Supply and Sanitation Technology Platform, KIC climate, EIT Raw Materials, SPIRE (the European process industries platform), and international networks: the Global Water Research Coalition (GWRC)
with the Singapore Public Utility Board (PUB), a long-standing collaboration that, in 2015, resulted in the signing of a memorandum of understanding and the inauguration of a new Expertise and Research Centre in Singapore, dedicated in particular to Smart Water.