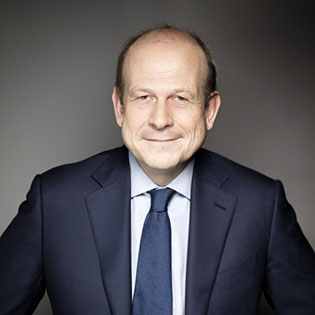 Christophe Cros
Group Deputy CEO in charge of Finance
Christophe Cros, born on 3 August 1959, was a magistrate at the Cour des comptes (1985-1989) and then Head of Financial Organization for the Centre National des Caisses d'Épargne. Mr. Cros studied at École Nationale d'Administration (ENA), and is a graduate of Institut d'Études Politiques de Paris and holds a Master's degree in Economics from Université de Paris I.
He joined the SUEZ group in 1991, where he became Chief Financing and Treasury Officer in 1993. From 1995 to 1998, he was Chief Operating Officer, then Chairman and Chief Executive Officer of Crédisuez, the division covering all the Group's real estate activities. He was appointed Chief Operating Officer of SITA in 1999, and took over all its European activities in 2002. He was responsible for SUEZ's Recycling and Recovery Europe activities and Chief Executive Officer of SITA France.
In April 2013, Christophe Cros was appointed Deputy CEO in charge of the Waste Europe business. Since 1 September 2015 he has been Group Deputy CEO in charge of Finance.